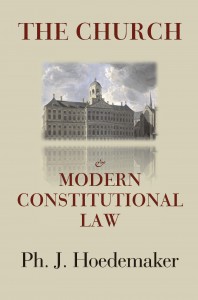 Page link
(Aalten, The Netherlands, October 14th, 2014) — WordBridge Publishing announces the publication of Philippus J. Hoedemaker's The Church and Modern Constitutional Law. Translated from the Dutch edition of 1904.
ABOUT THE BOOK: Philippus Hoedemaker (1839-1910) was a Dutch preacher and theologian, best known for his diametrical opposition to Abraham Kuyper. Having started their careers as friends, these two ended up pronounced antagonists. Hoedemaker opposed Kuyper's "neocalvinist" agenda foursquare. He stood for a publicly recognized church as the central pillar of a confessional state and a Christian nation. Such an agenda could not hope for a hearing in the late 19th and early 20th centuries, when Kuyper's notions of pluralism and neutrality enjoyed a high tide of success. But the current historical juncture has revealed the foundations of sand upon which that agenda was based.
Today the need is for a recovery of first principles with regard to church, state, and nation; and those principles need to be gleaned from a return to biblical teaching and the historical Reformed tradition. This is what Hoedemaker's book has to offer. It is first and foremost a thorough exposition of the biblical principles of the church and her government. Secondly, it unapologetically drives home the implications of such a church for the public order and for the nations. And it is written with the passion of one who knows he is right, though the entire world be wrong. It has come upon our age, our time, our generation, to take up his challenge and rediscover what God's Word requires of His people, even now.
Requests for review copies and other inquiries may be directed to 
BOOK INFORMATION:
ISBN: 978-90-76660-37-0
Translator: Ruben Alvarado
Page count: xviii, 192
Price (list):  $14.99
Publication date: October 30th, 2014