K. J. Popma
Translated and edited by Harry Van Dyke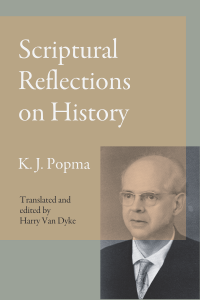 K. J. Popma, a teacher of classical languages and a special professor of Reformed philosophy at the universities of Groningen and Utrecht, wrote his book during the trying times of the Second World War. The work outlines a philosophy of history rooted in Scripture and takes the account provided by Scripture seriously, without eliminating its historical character, either by spiritualizing its message or by undercutting it through an appeal to science. It takes its cues from the Scriptural narrative: creation and fall, the tower of Babel, Abraham and Israel, Daniel's Four Empires, and the principal division in world history, the coming of Christ.
Popma's fresh and challenging approach to history utilizes the perspective of the Calvinistic philosophy associated with Herman Dooyeweerd, but it does so in Popma's unique and idiosyncratic way, and in a style that belies the learning that underlies it. Nor does one need to have any special acquaintance with the specifics of Dooyeweerd's philosophy to profit from it. At the same time, the relation between history and theology is especially important – "the researcher who never took a peek in the workshop of theology will always be a bungler" (p. 85).
History is a unity, and a continuity—of the sacred and the secular, of the course of salvation history and secular history, of the here and the hereafter. Nor does it end at the resurrection from the dead. "Our earthly task continues, first in our task in heaven, presently in our task on the new earth. Thus, it is not true that our earthly task comes to an end. For heaven and earth belong together and our task never ends" (p. 116). So then, history is not something disconnected from eternity, but continues into eternity. There is a unity between heaven and earth, between culture here and now, and life in the renewed creation hereafter.
The aim of this book is to point to the splendour of the structure that God has built, to history in its unity and course. He who learns to see something of that splendour will foster a burning interest for what has happened and is still happening and will happen. He will be afraid of nothing so much as the danger of shutting oneself up in a spiritual prison that makes it impossible to see the real history, even if such a prison displays the finest inscriptions over its entrance and is comfortably and even luxuriously furnished. Nor will he become discouraged when he discovers that history is full of injustice. For he knows that those who hunger and thirst after righteousness will be satisfied (p. 133).
Review copies available upon request:
Information
ISBN/SKU:9789076660578 paperback, 9789076660646 hardback
ISBN Complete:978-90-76660-57-8
Publication Date:11/19/2020
Book Type: B&W 6 x 9 in or 229 x 152 mm Perfect Bound on White w/Matte Lam
Page Count: 154 
Retail Price: $12.99/£8.99/€10.99 paper, $19.99/£14.99/€16.99 hardback


Purchase the hardcover version