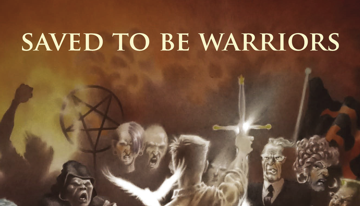 Exposing the Errors of Radical Two-Kingdom Theology
Rev. Bret McAtee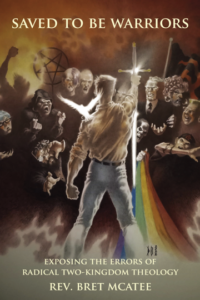 Radical Two-Kingdom theology would have us believe that God has created a divided world. It is a world bifurcated into two realms, one of "nature" and the other of "grace," whereby the things common to believer and unbeliever are understood to occupy a distinct and autonomous realm, "nature," while the things particular to believers are located in a separate, "higher," "spiritual" realm, the realm of "grace." Supposedly, the latter is to be kept unsoiled by contact with the natural realm, which then goes by the name of "the world."
The Christian as Christian is therefore only responsible for the realm of grace; but as human being, undistinguished from unbelievers, he is responsible to act in the realm of nature. By what criterion? Something that goes under the name of natural law. The crux of the issue is, the two realms have nothing in common, the better to preserve the spiritual realm from contamination from below.
This may sound pious and spiritually pure, but it is in fact a recipe for human autonomy and nothing less than a betrayal of the Christian's calling to pursue the kingdom of Christ in and through the work of everyday, "natural" life. For one day every knee shall bow and every tongue confess that Jesus Christ is King of Kings, Lord of Lords; and the glory and honor of the nations will be brought into His kingdom. This includes culture and politics, for there are no such Two Kingdoms.
"Woe unto the preacher who does not sound the alarm when the Good News is attacked from within the church, when the Law is pitted against the Gospel, and when Christ's Crown Rights over all of life is disputed. Especially in this day and age when unity is elevated far above purity and when virtue signaling seems to be the order of the day, I am most grateful for this excellent contribution by Rev. Bret McAtee. This work robs the serious reader of every excuse not to stand up against a false and dangerous doctrine – one that is by no means a minor issue, but an assault on the Gospel of Jesus Christ itself. I am most thankful that McAtee has answered the call and dealt with the assailants, not with cheap rhetoric, but by biblically interacting with their own words" – Rev. Sacha Walicord
About the Author: Rev. Bret L. McAtee is the pastor of an independent Reformed Church in Michigan. He holds a Bachelor of Science degree focused on Political Science, History and Religion from Indiana Wesleyan University as well as a Master of Divinity from Columbia Biblical Seminary at Columbia International University. He is also a research fellow affiliated with the Pactum Institute. He regularly uploads quality theological and philosophical reflections on his personal blog known as Iron Ink.
Advance/review copies available upon request
Print information
Print ISBN: 978-90-76660-70-7
Trim Size: 6.000" x 9.000" 
Paperback: Perfect Bound
Page Count: 146
Retail Price: $12.99/£10.99/€11.99
Publication date: January 10th, 2023
---