The Question of Conservative Foundations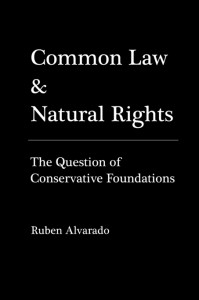 The natural rights philosophy currently holds pride of place as the basis for conservatism. This book argues for an alternative — common law — and does so by exposing the predicament into which the natural-rights philosophy has put us. America's constitutional foundations are examined in terms of the natural rights philosophy in which they were framed, and the inability to restrain government is discovered to be the result. The separation of powers was the fruit of natural-rights philosophy, and has been found wanting. What is needed is a restoration of a truly independent legal order and judiciary, rooted in the common law. The separation of powers has given us a nominal, not a real, independent judiciary.
Some of the issues addressed in Common Law & Natural Rights:
Russell Kirk's vision of conservatism and how it differs from that of many modern conservatives
Mark Levin's book, Liberty and Tyranny, and how it exemplifies some of conservatism's shortcomings
Friedrich Hayek's neglected, masterful critique of contemporary constitutionalism, including the US Constitution
Friedrich Julius Stahl's anticipation of Hayek's argument
Charles Howard McIlwain's thematic distinction between gubernaculum and jurisdictio brought to bear
Gottfried Dietze's forgotten critique of overbearing democracy
Michael Oakeshott's analysis of the civil condition
Herman Dooyeweerd's idea of common law as the product of Rome
the parallel between Roman and English law
Alan Macfarlane's origins of English individualism in context
adjudication versus legislation as the source of law
the value and failure of American judicial review
credit and debt as the primary factors in law and economics
the credit crisis as the latest example of egregious government intervention
the religious root of the welfare state
the religious root of the anti-capitalist mentality
the role of atonement as the basis of the state and capitalism
Thomas Chalmers on the entitlement mentality
Edmund Burke on natural rights
Common Law & Natural Rights goes beyond a simple affirmation of the virtues of self-reliance and the limited state, to the philosophical and religious foundations upon which they must be grounded, so as to make them possible and defensible. It grounds conservatism in the historical reality of received institutions, where conservatism belongs, while maintaining a strong connection to higher law, to which conservatism must always point. Well-intentioned defenders of natural rights owe it to themselves to apprise themselves of this argument.
Book Type:B&W 6 x 9 in or 229 x 152 mm Perfect Bound on White
ISBN/SKU: 9076660077
ISBN Complete: 978-90-76660-07-3
Book Type: B&W 6 x 9 in or 229 x 152 mm Blue Cloth w/Jacket on Creme
ISBN/SKU: 9076660085
ISBN Complete: 978-90-76660-08-0
Page Count: 160
includes bibliography, index
ebook versions also available: