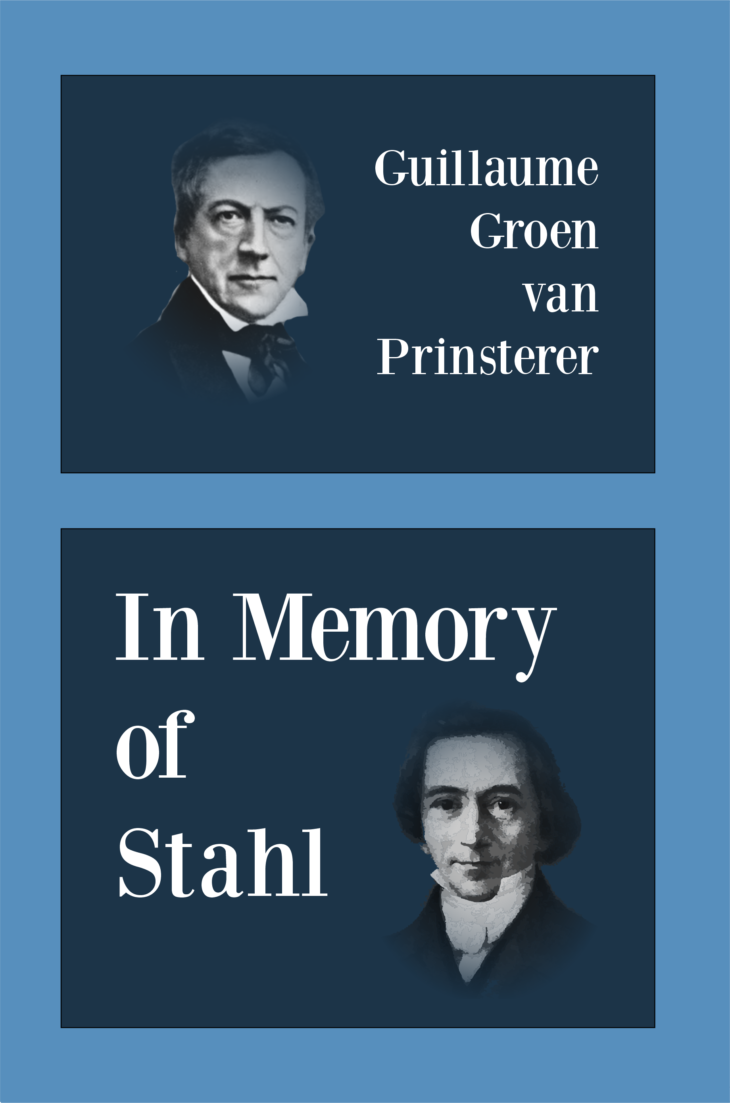 Guillaume Groen van Prinsterer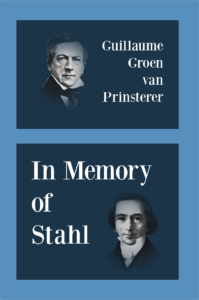 "Please allow me to introduce myself. My name is Guillaume Groen van Prinsterer. I heard that you don't know who Stahl is. And I could not help wondering – please pardon my incivility, but … what rock have you been hiding under? Never heard of Stahl? Why, he is simply one of the greatest statesmen and legal scholars that Germany ever produced.
"Everyone knows Stahl – usually without wanting to. For he has many opponents, who execrated what he stood for. They had a host of names for him: 'a friend of compulsion, of princely absolutism, of medieval prejudices and misconceptions, a thoughtless fanatic, attached to obsolete forms, who foolishly mixes politics with religion; an ultra-Lutheran, Puseyite, head of the Junker party, proponent of feudal abuses, sophist in scientific outfit, dreamer about whose metaphysical speculations one reluctantly racks one's brains.' When he died, they were happy to see him go: 'Every sane person gladly sends such wicked men as this crusader chasing the holy cross, when heaven pleases to call them.' Crusader! And they say that of someone who is Jewish! That's right, Stahl was a convert to Christianity. And then, about his legacy – they are certain it will not follow after him: 'It does not look as if Stahl will rise from the dead anymore.'
"But it will. I – we – will make sure that it does. Stahl was a voice crying in the wilderness, but his message is timeless. The kingdom of God and of His Christ will be recognized, on earth as it is in heaven. Here and now, among the rulers and powers, among the nations. 'Every knee shall bow and every tongue confess that Jesus Christ is Lord.' That is Stahl's message, not only in private, among the congregation and around the dinner table, but in public, in the halls of power, the groves of academia, the popular consciousness, the public's opinion. The gospel is an affair of public interest, it is a message to the nations. It concerns their weal and woe, their destiny. Such is by no means a matter of indifference to the kingdom of God.
"That has been my message as well. Believe me, it is not a popular one in this day and age. The entire Zeitgeist is running against it. No one wants to hear of 'the faithful witness, the firstborn of the dead, and the ruler of the kings of the earth' – not even His followers! But does that mean that we are to be silenced? Or worse yet, to silence ourselves? Forbid it, Almighty God!
"It is time men like Stahl were recognized for their work, their achievement, and their vision for the church, the nations, and the kingdom of God. It is past time to embrace and build upon their legacies, especially Stahl's, which is so rich, profitable, rewarding. Read this memorial and acquaint yourself with someone who well deserves your undivided attention."
ISBN 978-90-76660-67-7
B&W 6 x 9 in or 229 x 152 mm Perfect Bound on White w/Gloss Lam
Page Count: 131
Retail price: $11.99/£8.99/€10.99
Publication date: April 15th, 2022
Click here for purchasing options for the softcover book
Review copies available upon request